For the spouses who decide to give their dreams, we also package "all inclusive wedding offers" at exceptional prices: the Offerte Catering Roma promotion with a wedding and villa banquet. You will have exclusive historic location surrounded by greenery just a few kilometers from Rome!
Casal Romito Maan Wedding Offer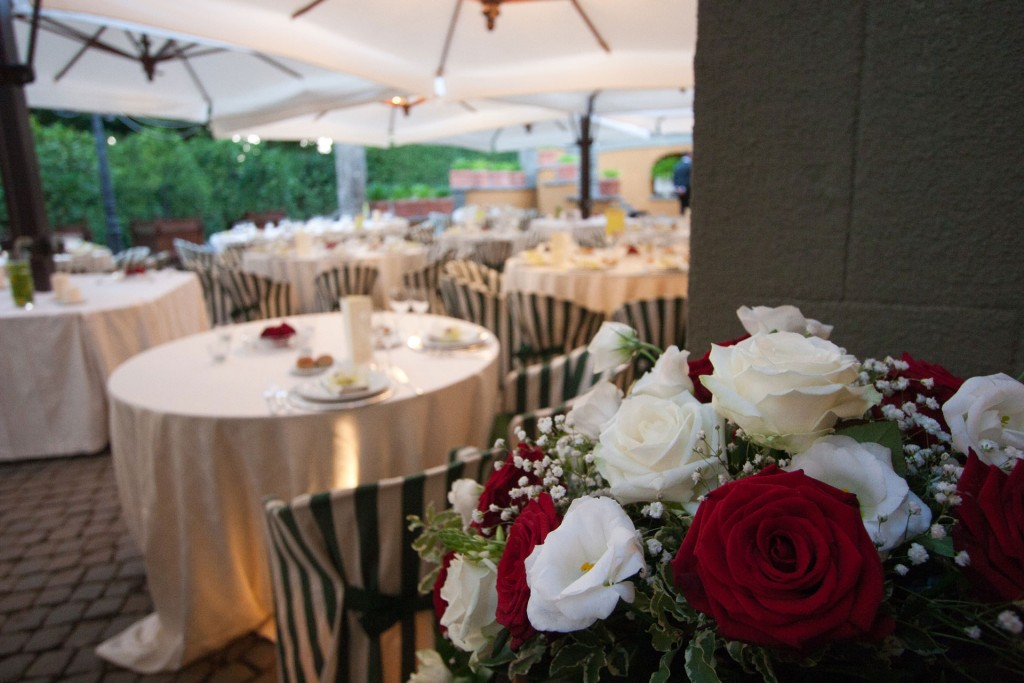 The all-inclusive wedding offers a scenic setting in a villa just a few steps from Rome, exclusive and equipped with every convenience, with professional kitchens to create exquisite and ever-changing cuisine.
Catering Offer Rome
Possible Menu
The Maan banqueting menu provides a garden aperitif in the garden in spring or summer or in the newly restored salons for cold days. To delight guests at the beginning of the banquet there will be set up various themed corners such as those of fried espresso of land or sea, that of salami D.O.P. And cheeses with fruit and honey compositions.
Lunch or dinner will be served at the table and will be made up of two first choices of:
– Carnaroli rice with radicchio in Treviso and smoked buffalo and Amatrice crunchy crust
– Carnaroli rice with pumpkin flowers and aquilane saffron pistols
– Carnaroli rice with Ladispoli artichoke heart and Amatrice's pillow
– Carnaroli rice with talento Dop and radicchio of Treviso
– Roman fettuccine with cherry tomatoes and basil porcini and pecorino romano
– Malted with ragout of white meat and porcini mushrooms
– Tagliolino with speck Tyrolean porcini mushrooms and cherry tomatoes
– Sautéed with radicchio beef steak from Treviso to Chianti and Roman pecorino
– Crepes at Sorrento
– malted with ragout of white meats and black truffle of Norcia
– Tagliolini with lamb ragout and juniper berries
There will be a second choice and a seasonal outline between:
Roasted veal veal with sage and rosemary
– Pork loin with fennel flavored oven
– Colonnata lard pork tenderloin
– Baked calf stew in Madera sauce
– Calf counterbalance with caramelized juniper berries
– Baked calf with black truffle sauce of Norcia
– Baked potatoes with chopped tomatoes and olives
– Asparagus gratin with gratin with melted grain and butter
– Chioggia radicchio rolls with smoked Dop and Tyrolean speck
– Charm of fresh green beans with bacon bardon
– Potato chips for Bernard
– Indigenous Belgian baked bread with perfumed mountain herbs
– Chioggia Radicchio baked with balsamic cream in Modena
All will be accompanied by sandwiches to olives and sesame
Dulcis will eventually bring the Wedding Cake, chosen from the various Wedding Cake proposals of the moment, accompanied by a rich dessert and fruit buffet. Among the sweets offered:
– Bavarian chocolate
– Tart with Roman ricotta and sea jam
– French Fruit Cups with Strawberry Cream
– Two chocolate mousse with Piedmont hazelnuts
– One-tiramisù coffee coffin
– Bavarian fresh fruit
– One-pie lemon mousse and glacial mint
– One-pound Malaga cream with sultanas and pine nuts
– Espresso coffee mousse and sweet caramel roll
Coffee, bitter and distilled.
The buvette includes: Nepi Mineral and Smooth – Frascati Superiore Borgo dei Cedri Lorenzo Costantini Docg – Rosso I.g. Lazio Rubbish – Moscato di Terracina doc and spumante brut doc – Drink
—
The preparation of the menu is done by cooking with high-quality products. The production process is carried out in accordance with the regulations in force on hygiene and sanitary matters.
You can customize the menu with:
Flavors from the sea and raw with five choices between:
Carpaccio of bass and rucoline in lemon sauce
To keep swordfish and chives
Cream of chickpeas and scalloped boccocks
Octopus salad with fennel and bottarga of mullet
Fresh marinated Norwegian salmon with dill and pink pepper
Carpaccio of Sicilian citrus fruit noodles and peach nuts
Hot salad with octopus and potatoes
Sardinian fregula with real clams and mussels
Salad of celery and calamari in peach sauce
Fresh Norwegian marinated marinated with guacamole
Moscardini in guazzetto
€ 5,00 + I.V.A. 10% per person
Oysters fines claire
€ 1.50 + I.V.A. 10% per person
Plateau Royale:
Oysters fines claire, raw shrimp, raw scampi, casinos
€ 3.50 + I.V.A. 10% per person
Show cooking with room lamp:
Cognac prawns
€ 1.50 + I.V.A. 10% per person
First seafood dishes
Water and flour cake with true shrimp clams and concassed tomato
Tagliolini with scalloped salmon fillets of crustacean cherry tomatoes and basil
Sleeveless sleeveless horseshoes
Tagliolini with shrimp and tomato bacon
Carnaroli rice with shrimp and asparagus scallops
Paccheri with fresh tuna chopped tomato and basil
€ 3.00 + I.V.A. 10% per person
—
For information and eventual appointments you can send an e-mail or telephone at our Maan offices in Frascati at 069417605. We will be happy to provide you with all the news you want.