Our priority is to do good: for this reason we have been cooperating for many years with associations and religious institutes to give small pills of happiness and to do concrete gestures.
Our intervention ranges from donating to local convents to intervention in distant areas.
Periodically we take part in the initiatives of the Frascati subsection. In the summer of 2016 we had the pleasure of giving our little contribution to the summer holidays organized at Villa Campitelli in Frascati. We thank President Claudio Savelli for the occasion.
In Tanzania, in 2007, we started a wonderful experience by adopting distance Federica, a little girl who is now 12 years old. In the same post we sent more than one hundred meshes to the Sisters of the SS. Sacramento of Morogoro, which with our great joy have been adopted as the official uniform of their school.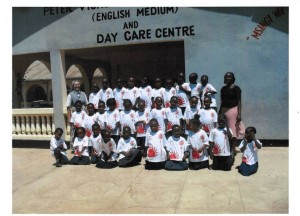 The guys of Morogoro with Maan jerseys
We are happy to participate in events that promote sport and attention to childhood. That is why we were happy to contribute to the success of Sportinsieme in May 2013, organized by the Association Fr. Zelli Pie Schools in Frascati.
In 2014 Maan participated as a benefactor to the donation of a defibrillator to the City of Frascati.
In the name of the children and the maternity to be protected we have been supporting for many years and in our little house S. Joseph and S. Teresa of the Carmelite Sisters of D.C. J. of Rocca di Papa.
From our experience we have learned that even a small gesture can be very important for those who receive and who donates.